Webstreaming : you can watch a live recording of the Briefing here
The Brussels Development Briefing n.40 on the subject of "Data: the next revolution for agriculture in ACP countries?" was held in Brussels on 18th February 2015 at the ACP Secretariat (451 Avenue Georges Henri, 1200 Bruxelles, Room C).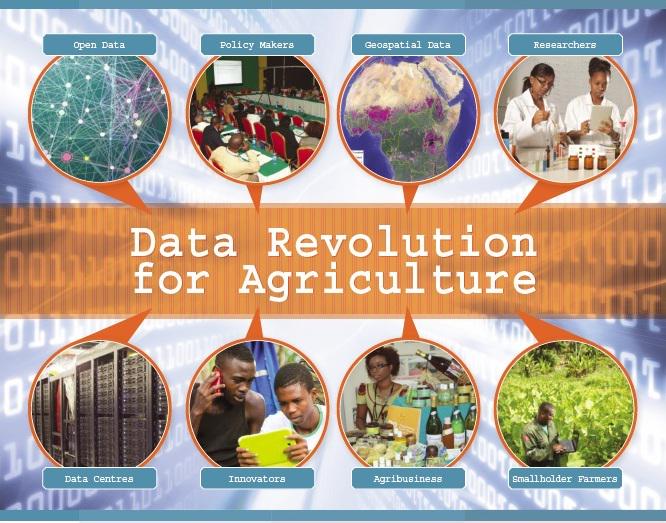 The explosion of digital data offers new technological opportunities for enhancing agricultural development; it has also become a key asset for all economies in the world. By looking at significant trends, approaches and experiences in using open data for food and nutrition security, this Briefing shall shed light on the impacts of the global data revolution for agriculture.
The increasing volume of real-time data represents both a challenge and an opportunity for developing countries, and in particular, Africa, the Caribbean and the Pacific (ACP).  Harnessing the opportunities offered by this new digital landscape of open data systems shall be crucial: to meet acute data gaps throughout the value chain; to collect reliable data and statistics; to accurately plan and influence policies and interventions; to benefit from private-public partnerships, especially in the food industry; to inform  global development efforts, donor decisions, and policy.
The audience of 155 key stakeholders includes ACP-EU policy makers, regional organizations, representatives of EU Member States, European Commission services, Members of the European Parliament, private sector, civil society groups, European research and development practitioners and international organizations.
New! on the subject of Data for Agriculture
Below you will find the programme of the event, photos, the presentations of the speakers, as well as other useful information:
Background Note and  Programme 
Reader
Photos
Biodata of speakers
Resources & Glossary
ICT Update: Data Revolution for Agriculture
Capacity4Dev feature on Agriculture's Data Revolution:
Introductory remarks Alhaji Muhammad Mumuni, Secretary-General [Opening remarks|Video], ACP Secretariat; Bernard Rey, Deputy Head of Unit DEVCO/C1, Food security, rural development, nutrition EuropeAid, European Commission [Video]; Michael Hailu Director of CTA  [Opening remarks|Video]
Panel 1: The Data revolution: from data collection to real-time digital data
This panel will review the key challenges and opportunities for data revolution of relevance to the agricultural sector in ACP countries and the lessons learned from various information systems. [Full Video]
Panelists:
– What could the data revolution bring to agriculture in ACP countries?
Chris Addison, Senior Coordinator, Knowledge management,  [Presentation|Summary|Video] Isolina Boto, CTA [Video]
– Data for Development: Evidence and Policy
Morten Jerven, Associate Professor, Simon Fraser University [Presentation|Summary|Video]
– Can data revolution improve food security?
Maximo Torero, Division Director of the Markets, Trade, and Institutions Division, International Food Policy Research Institute (IFPRI) [Presentation |Summary|Video]
– Strengthening statistical capacity in ACP countries: lessons learned
Pietro Gennari, Chief Statistician and Director FAO Statistics Division  [Presentation|Summary|Video]
Panel 2: New opportunities for agriculture in the data revolution
This panel will look at examples and drivers of successes related to data for agricultural development and how those could be expanded, upscaled and replicated. [Full video]
Panelists:
– Introduction [Video]
– Open data for Africa and the Africa Information Highway (AIH)
Adam Abdoulaye, Expert, Statistical Capacity Building Division, African Development Bank [Presentation|Summary|Video]
– How can farmer's organizations benefit from ICTs application to agriculture?
Theo de Jager, President, Panafrican Famers Organisation and President Southern African Confederation of Agricultural Unions (SACAU) [Presentation|Summary|Video]
– Data for improved sustainable value chains
Herman uit de Bosch, Executive Director, FairMatch Support, The Netherlands  [Presentation|Summary|Video]
– Precision agriculture in Africa: What are challenges and opportunities ahead?
Ulrich Adam, EU Secretary General at CEMA – European Agricultural Machinery  [Presentation|Summary|Video]
– How governments can use open data for the benefit of ACP countries
Stéphane Boyera, Founder and CEO of SBC4  [Presentation|Summary|Video]
– Open \ Data and Improved Land Governance: the case of Landportal.Info
Magdalena Anna Kropiwnicka, Food and Climate Consulting, Landportal.Info [Presentation|Summary|Video]